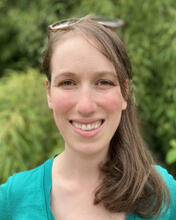 Event time:
Thursday, December 9, 2021 - 3:30pm
Event description:
Please join us for a seminar hosted by the Max Planck-Yale Center for Biodiversity Movement and Global Change, featuring speaker Dr. Briana Abrahms.
Dr. Abrahms is an Assistant Professor of Biology at the University of Washington. Her research integrates global change biology with behavioral and spatial ecology to study the effects of environmental variability and change on vertebrate populations
Please check back soon for more information regarding Dr. Abrahms's talk, and be sure to email ybgc@yale.edu to be added to our mailing list and be the first to hear about our upcoming seminars and events!